Anchovies, how can I cook you?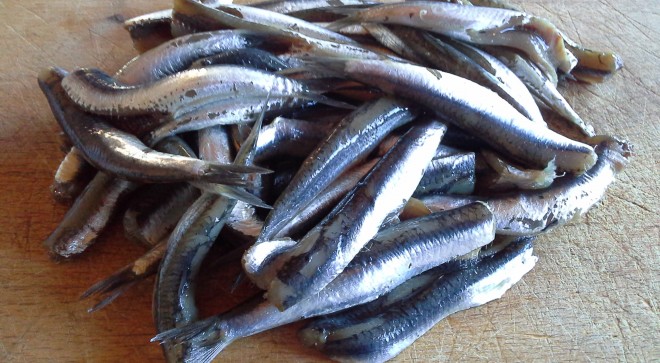 Anchovies fry, with Saltapoggio extravirgin olive oil.
Yesterday my wife, Francesca, has bought some anchovies. We really like this blu fisch. It's really good, is not expensive, and is full of Omega 3! Are these reasons enough to cook them?
There are several recipes of anchovies, but this time we have chosen the fried version.
As you can imagine, Saltapoggio family is used to frying with our extravirgin olive oil white label.
What a waste? Depends on the point of view…if you have appasionate about health and good food, come on! The extravirgin olive oil stand up to high temperatures better than the others oils. That means that it does not trasmit toxic substance to your food.
How to procede.
You'll need:
400 g. of fresch anchovies
flour or breadcrumbs
evoo to fry
How to make it:
Remove fish heads and innards. It is easy to remove innards by running your thumb along the belly. Rinse anchovies. Pat dry and set aside.
Pour extravirgin olive oil in a medium frying pan, spread flour onto a large dinner plate and mix in approximately 1 tsp salt.
Roll anchovies individually in the flour, coating them on all sides and place each in frying pan of hot oil. Fry just until golden, cooking on both sides. Depending on the size of the anchovies, it may only take 1 minute on each side to cook.
Remove from pan with a slotted spoon or spatula and serve with lemon.
They are really good!!!
And you, how do you cook anchovies???